The Nestling Co.
Evergreen Mini - Gathering Bucket
Regular price
Sale price
$73.00 AUD
Unit price
per
Sale
Sold out
Part of a mom + me set, to free your hands while exploring or harvesting. From collecting shells, to picking berries. Because mom and dad's pockets are only so big!
This basket was constructed on a sewing machine, coiled by hand, using 100% cotton rope and thread. The rope is dyed from logwood extract and is from my very first botanical dyebath. It is finished off with a cork tag.
The basket measures approximately 6" in diameter, 6" high with 13" straps
Find the 'mama' version here.
Made to order. Designed for toddlers - please leave a note if a custom strap length is necessary in order to accommodate older children! Please measure from shoulder to opposite hip and include measurement in 'Notes to Seller' at checkout. Expect a 7-10 day turnaround.
Share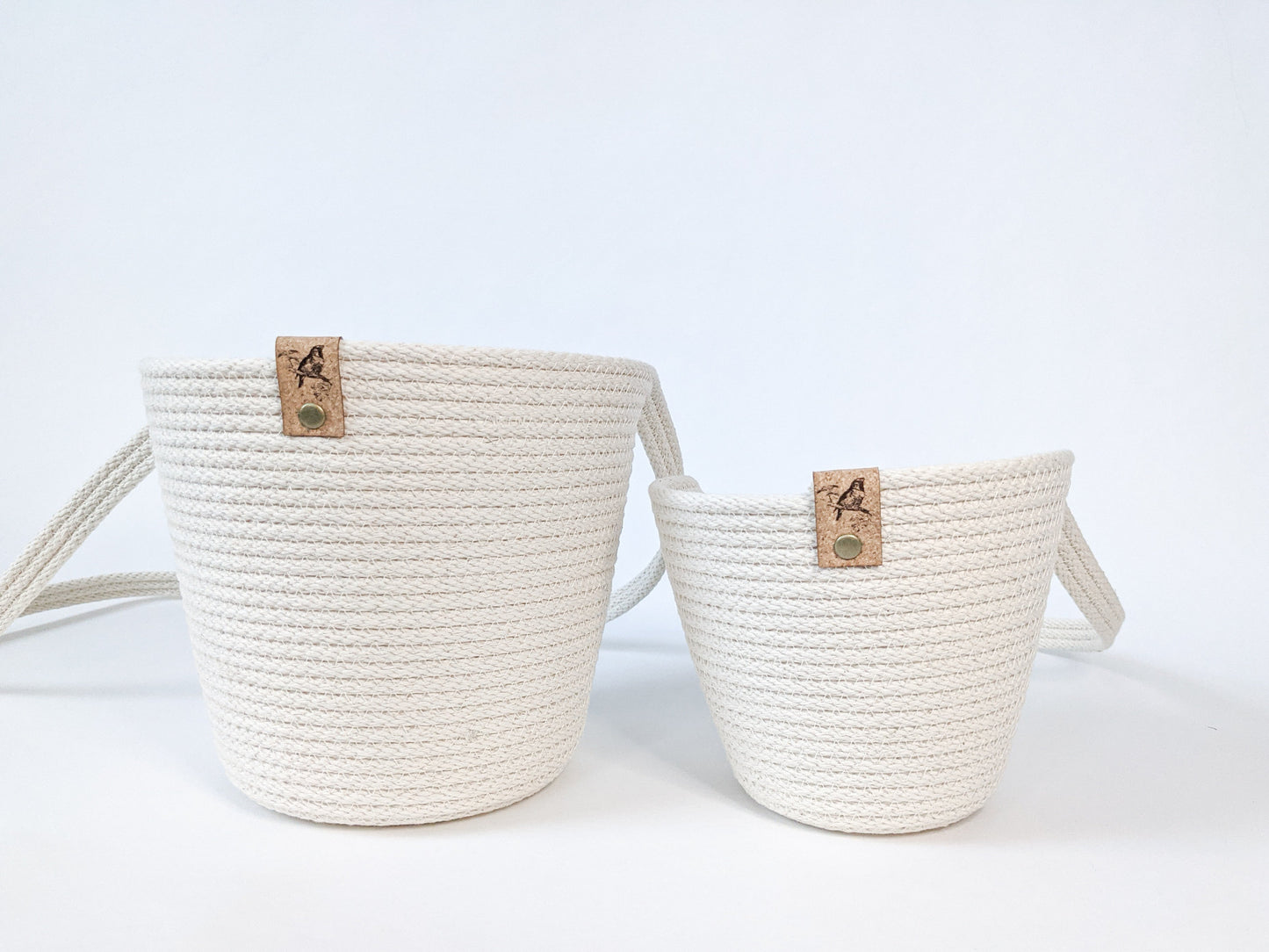 Incredible product, incredible attention to detail
I ordered the gathering baskets to use as Easter baskets for years to come, as I don't like buying single use items. I asked Mae to incorporate some small stitch that could distinguish my twins baskets apart, and she so kindly stitched their initial in the bottom of each basket!! The best part: she made the R purple and the C pink, not even knowing that Rose ALWAYS gets a purple paci and Clem ALWAYS gets a pink paci! The baskets themselves are so perfectly timeless and I can't wait to take my girls on long nature walks with these treasured baskets. Thank you for your amazing work! I will definitely be back.
Lovely Basket
My toddler loves gathering flowers and pinecones with this basket. It's beautiful and fits well. Thanks so much!
Love it!
I bought this for my daughter for her birthday and she went around the yard collecting everything she could. The quality and craftsmanship is one of a kind. I will surely buy again from this store.
So cute!
Love this little gathering bucket! Wee ones can collect flowers, seashells or whatever they wish and easily carry the bucket cross-body style.
Cute basket
It was better than I expected and hope to buy more of these lovely products in the future. I know I will buy a bucket next year for my toddler.